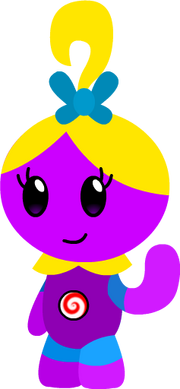 Impossibory is 
Noonbory
's cousin who can do impossible things. When she does these things, her hands glow a bright red and her symbol spins around. Her symbol is a white circle with a red swirl.
About Her
Edit
Full Name: Impossibory Commonsense
Color: Purple
Gender: Female
Features: Yellow hair in question-mark-shaped ponytail, blue bow, blue shirt, light blue pants, purple outfit similar to Lunabory's with a yellow collar
Age: 5
Best Friend: Dizzybory
Nickname(s): Impossi
Catchphrases(s): "That's impossible," "I can do anything."
Impossible things she has done
Edit